Healthy Fruit Shakes and Smoothies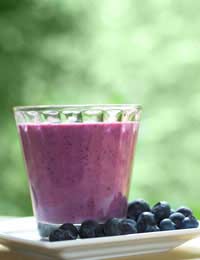 Fruit shakes and smoothies are a great way to get some vitamins and calcium into the kids, while keeping them hydrated in the summer – and they taste great too. Children will go for these rather than a sugary can of pop anytime.
Equipment
A blender or liquidiser of some kind makes things easier, although it's not essential for all fruits. Kids tend to prefer 'no bits' of course, in which case a blender is a godsend and saves the hassle of pushing fruit through a sieve and whisking for hours.
It's also worth considering buying a juicer. It opens up a whole range of fruit and vegetable juices that can't easily be bought in the shops or cost a small fortune (plums, peaches and raspberries come to mind). Market stalls often sell off ripe fruit at the end of the day at knockdown prices, which are perfect for juicing – so it can be very economical too.
The Basic Shake
Fruit milkshakes are a delicious blend of milk, ice-cream and flavourings – in this case, healthy fresh fruit rather than chocolate! Softer, sweeter fruits tend to work best. Vary the ingredients to get the preferred thickness. A 'burger bar' texture is achieved by increasing the ice-cream until the straw stands straight up in the shake …
For a healthier version, try lower fat milk or low-fat ice-cream (or frozen yoghurt). Or go for a smoothie instead!
Some Fruity Shake Ideas
Whiz up half a pint of milk, a couple of scoops of vanilla ice-cream, plus about 200g/7 oz each of the following fresh fruits (peeled and cored/stoned as necessary):
strawberry and banana
mango and kiwi
plum and raspberry
blackberry and banana
peach and pineapple
apple and pear
All these fruits work well by themselves too. Try experimenting with spices like cinnamon and nutmeg to give them a big of zing.
The Basic Smoothie
A smoothie is a like a shake without the ice-cream – so they're less thick and more thirst-quenching. There are many variations on the basic recipe. Some have milk, some have yoghurt; others are completely dairy-free. But they're all deliciously refreshing!
Milky smoothies: whiz up half a pint of milk, a handful of ice cubes, plus about 200g/7 oz each of the following fresh fruits (peeled and cored/stoned as necessary). There are no hard and fast rules – experiment with quantities until the smoothie is at the preferred consistency:
banana and strawberry
blueberry and raspberry
peach and apricot
nectarine and pear
Yoghurt-based smoothies: combine quarter of a pint each of fruit juice and natural yoghurt with 200g/7 oz each of the following fresh fruits and a handful of ice cubes:
banana and mango
peach and raspberry
pear and pomegranate
strawberry and blueberry
Milk-free smoothies: for a low-fat, really refreshing drink (and for people who are intolerant of dairy products), use a base of freshly squeezed fruit juice combined with crushed fruits and a handful of ice. Tasty combinations include:
Apple juice, cherry and cranberry
Orange juice, nectarine and passionfruit
Pineapple juice, apricot and peach
Vegetables in Smoothies
For kids who aren't so keen on vegetables, smoothies are a great way to sneak some in. Carrot juice, cucumber and avocado spring to mind – their flavours blend well with fruit and will probably go undetected. Try:
carrot juice, apple and mango
apple juice, avocado and a dash of lime
apple juice, melon and cucumber
You might also like...