Can a Toddler Be Vegetarian?
By: Suzanne Elvidge BSc (hons), MSc - Updated: 15 Oct 2012
|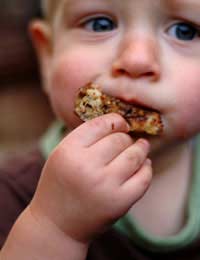 It is vitally important to make sure that growing children have a balanced diet for the development of both their brains and their bodies. Some families choose to bring up their children as vegetarians, and others find that their toddler just doesn't want to eat meat. So is it possible to bring a toddler up as a vegetarian and keep him or her healthy? Yes, if it's done with a bit of planning, and they may well grow up to be healthier with less risk of obesity.
Keeping Up the Protein
Young children need a good supply of protein as they grow. Beans and grains are a good source of vegetarian protein, as are eggs and dairy products, and most toddlers will enjoy dishes like beans or scrambled egg on toast, perhaps with a bit of grated cheese sprinkled on top. Stirring an egg, some tofu (soya bean curd) or some soya flour into mashed potatoes or other soft foods will give a protein boost. For children with no nut allergies, nut butters are a good source of protein, and taste great on toast or slices of apple.
Fibre and Fat
Small children do need foods that are higher in calories and nutrients than older children and adults, because they are growing quickly, and so shouldn't have food that is too low in fat or too high in fibre (see 'Can a Child Eat Too Healthily?')
Vegetarian food does tend to be higher in fibre and lower in fat than non-vegetarian food. While children shouldn't have too much fat, they should have full-fat or semi-skimmed milk in their diet – this can be given as a drink or used in cooking, for example in sauces. Toddlers can also have full-fat yogurts – this will them a good supply of calcium too.
Hiding Vegetables
Some children (even vegetarian ones) can be a bit wary of vegetables, especially unfamiliar ones, and these are an important source of vitamins and minerals. Tomato-based pasta sauces are a great way to 'hide' vegetables – chop peppers and onions very finely, fry in a little vegetable oil, and add in grated carrots and courgettes, with minced mushrooms and celery. Sweet potatoes, carrots, parsnips and swede can all be mashed up with potato for a topping to a vegetarian cottage pie.
Boosting Iron and B12 Levels
Some vegetarians can be low in iron, but giving toddler cereals that are fortified with iron, or adding molasses (black treacle) into sweet food will help. Pulses, dried fruits and green vegetables are also rich in iron. Vitamin C makes iron easier to absorb, so provide diluted fruit juices, or fruit and vegetables high in vitamin C, alongside iron-rich foods.
Meat is rich in B12, but vegetarians can get B12 from years extract, fortified cereals, and fortified milk and milk substitutes.
Snacking
It is important to make sure that a toddler has access to healthy snacks – just because a snack is vegetarian doesn't necessarily make it healthy. Avoid too many salty, sugary and fatty snacks like crisps and biscuits, and have plenty of fresh fruit, raw vegetables and cubes of cheese available.
You might also like...