Coeliac Disease in Children
By: Suzanne Elvidge BSc (hons), MSc - Updated: 28 Jun 2010
|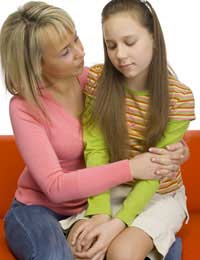 Coeliac disease is an autoimmune disease (a disease where the body's immune system attacks its own cells). Coeliac disease is triggered by gluten, a protein found in wheat, rye and barley, and it causes inflammation in the gut, which stops the gut absorbing food properly.
There is a similar protein found in oats, and some people with coeliac disease are also sensitive to this.
Coeliac disease affects about one in a hundred people, and runs in families. It seems to be more common in people with type I diabetes. It can develop at any age.
What are the Symptoms?
Symptoms in babies will first show up when babies are weaned off milk and onto solid foods. The main symptom is diarrhoea. Stools may also be pale and fatty, and smell bad, caused by the body not absorbing fat properly. Children might not gain weight and seem wasted and thin, or gain weight very slowly, and may not grow properly. Children with coeliac disease may go through puberty later than other children.
Children with coeliac disease may feel tired and weak because they are anaemic, caused by not absorbing enough iron, vitamin B12 or folate from food. They may also seem irritable and unhappy.
Children with coeliac disease may also have sickness, bloating, wind, indigestion and abdominal pain, and may get mouth ulcers and dermatitis on their elbows and knees. Different children get different symptoms, and some may get very few symptoms at all.
How is Coeliac Disease Diagnosed?
The doctor will take a blood sample and send it to the laboratory to check for antibodies to gluten. If necessary, doctors may take a biopsy (a small sample of the gut).
Treating Coeliac Disease
There are no drugs to cure coeliac disease, but it can be treated by following a gluten free diet, avoiding wheat, rye and barley. Some children will also need to avoid oats.
There are gluten free forms of just about all common wheat-containing foods, such as biscuits, cakes, pasta, cereals, bread and crackers. There are also gluten free flours to use in cooking. Some gluten free foods are available on prescription.
Be aware of foods that don't obviously contain gluten, such as stock cubes, crisps, sauces, ice cream, sausages, tinned foods and vegetable oil. Even some medicines can contain gluten. Rice and maize do not contain gluten.
Changing to a gluten free diet should have a dramatic effect, with the damaged gut healing after three to six months. However, coeliac disease is life-long – unlike some allergies, children do not grow out of coeliac disease.
It is important to explain coeliac disease not only to the child who has it, but also to the rest of the family, as some children can cope with lapses in the diet, but others find that even a small amount of gluten can make them unwell. However, parents and carers should work to help the child not to feel 'odd' or 'different'.
Preventing Coeliac Disease
It may be possible to prevent coeliac disease by breastfeeding, and by avoiding feeding babies foods containing gluten before they are four to six months old.
You might also like...