Fun Facts: How Many Calories...?
By: Suzanne Elvidge BSc (hons), MSc - Updated: 17 Nov 2012
|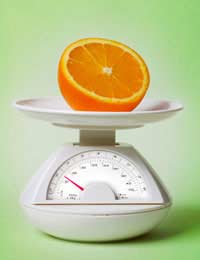 The number of calories that a child needs changes as they grow and their activity levels change (see 'How Many Calories Does Your Child Need?') While strict calorie counting is not necessarily healthy, it is a good idea to know roughly how many calories that different foods contain, and to know which foods should be kept just as treats.
Fruit
The levels of calories in fruit depends on the amount of starch and water it contains - an apple is less starchy than a banana, for example, and contains more water.
A banana has about 143 calories
A pear has about 68 calories
An apple has about 53 calories
An orange has about 59 calories
Fruit are low in fat, and high in fibre, vitamins and minerals, and the sugars in fruit are more slowly absorbed than processed sugars, so are less likely to cause blood sugar highs and lows. Dried fruit is much higher in calories than fresh fruit, but in sensible amounts still makes a healthier snack than sweets and chocolate, especially as it contains more fibre, vitamins and minerals, and is lower in fat.
Fast Food
Fast food tends to be high in fat and calories.
A cheeseburger has around 380-500 calories
A portion of fries has 200-300 calories
A slice of pizza has around 180-350 calories (and having a stuffed crust could increase this to 500 calories or more per slice)
Fast food is sometimes the only option when out and about, and is fine as an occasional special treat, but consider a filled baked potato rather than a burger and fries – this will be lower in fat (especially if you miss out the butter and cheese) and higher in fibre.
Milk
The calories in milk, whether it is animal or plant in origin, depends on the fat levels.
Channel Islands milk has 455 calories per pint
Whole milk has 370 calories per pint
Semi-skimmed milk has 255
Skimmed milk has 195 calories per pint
Soya milk has 205 calories per pint
Goat's milk has 395 calories per pint
Rice milk has 278 calories per pint
Coconut milk has 228 calories per pint
Different types of milk have different levels of fat, protein and vitamins and minerals. Children can have full-fat milk as a main drink from one year old, and can switch to semi-skimmed milk at two and skimmed milk at five years old. Channel Islands milk makes a tasty treat on special occasions, but is much higher in fat and calories than other types of milk.
Sweets and Snacks
Like fast food, sweets and snacks tend to be high in calories and fat, and the sugar and salt levels can be high too.
A bag of crisps has about 130-200 calories
A small pack of peanuts has about 130-160 calories
Two digestive biscuits has around 150 calories (having the reduced fat versions saves about 20 calories)
A jam doughnut has about 140 calories
A 100 g bar of chocolate has about 525 calories
Jelly babies are about 20 calories each
Sweets and snacks make great occasional treats, but should be eaten in small amounts at one sitting, rather than 'grazed' at all day. Encourage children to brush their teeth after eating sweets or chocolate. Homemade biscuits and cakes can be made with wholemeal flour to increase the fibre content, and less sugar than recommended in the recipe, to make them a bit healthier – and try replacing some or all of the fat in cakes with cooked apple to cut the calories even further.
You might also like...