Do Other Dairy Products Count Towards Daily Milk Allowance?
By: Suzanne Elvidge BSc (hons), MSc - Updated: 17 Sep 2012
|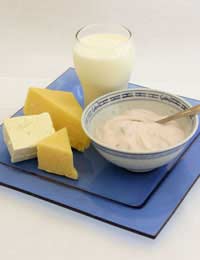 Q.
Can you solve something for me? My Health Visitors regularly tell me that giving full fat dairy products (including milk used in cooking) to my 8 month old son counts towards his recommended daily allowance as he his only taking around 16-18 oz a day.
They say a pot of fromage frais is the equivalent to 2 oz of formula/breastmilk and it is acceptable to do this, I have become aware that other people do not agree with this. What do you think?
(L.I, 25 February 2009)

A.
Weaned and weaning babies should have about a pint (or more) of milk a day, to make sure they are getting all the nutrients they need. This can be as formula or breast milk, or the baby can take the milk equivalent in baby cereal or baby food made up with formula or breast milk, milk puddings, custard, milk-based sauces, cheese and cottage cheese, or yogurt and fromage frais, especially if he isn't too keen on drinking milk.
Rough equivalents to 200 ml of milk (about seven ounces):
40 g cheese
200 g yoghurt
a cup of custard.
Yoghurts and fromage frais should be full fat, and milk puddings, custard and sauces should be made with full fat milk. Check the label just in case it says that the yoghurt or fromage frais is not suitable for babies or children, and watch out that it doesn't contain too much sugar. Yoghurt and fromage frais can be a way to introduce the baby to new flavours.
Babies should not have cow's milk as their main drink until they are one year old – until this age, their main drink should be breast milk (or formula milk). They can have cow's milk (whole milk) as part of their diet from six months, for example mixed into baby foods, in cooking, or on cereal.
Up until the age of two, children should have whole cow's milk – they can have semi-skimmed milk from two to five years, and then can have skimmed milk after the age of five.
If the baby is enjoying its solid food, think about giving him the food first, as otherwise he might just fill up on milk – however, if there are concerns about the baby not getting enough milk, perhaps try giving milk first for one feed, so that the baby takes the milk when he is hungry, and then the food first for the other feeds. Giving milk at separate times to food can also help – babies have very small stomachs, and so may not be able to cope with both milk and food at the same time.
You might also like...