Healthy Snacks for Kids
By: Suzanne Elvidge BSc (hons), MSc - Updated: 17 Sep 2012
|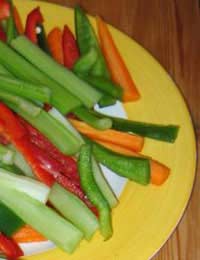 Children always seem to be hungry, and they are surrounded by unhealthy food options everywhere they go. While crisps, sweets and chocolate are fine as treats, they shouldn't be eaten all the time. There are lots of options for snacks for children that are healthy, fun, and easy to prepare and eat – and keeping a variety of snacks 'ready to go' will make kids more likely to take the healthy option.
Fruit and Vegetables
Having fruit or vegetables as a snack is an easy way to five-a-day. Rather than just having a piece of fruit, try:
Yoghurt and fruit dip – mix vanilla essence into natural yoghurt (full fat for young children and low fat for older children), sweetened with a little honey if required, and dip in slices of banana, apple, or pear, sections of satsumas, and small whole fruit like grapes and strawberries stuck on cocktail sticks
Dried fruit – a handful of raisins, dates, dried cranberries, dried cherries or other dried fruit (avoid any that have added sugar)
Trail mix – mix together a variety of dried fruit with seeds and nuts and store in snack-sized pots or plastic bags
A fruit smoothie made from milk (cows', soya or rice milk) whizzed together with fruit juice, bananas and other soft fruit (use frozen soft fruit or tinned fruit in juice in the winter)
Fruit in jelly – make up sugar-free jelly in small pots, with cubes of fresh or tinned fruit (choose the ones in juice rather than syrup) in the bottom. Layering different colours of jelly, or making it with sparkling water or sugar free lemonade adds an extra something!
Small cans of fruit in juice make a good snack – or it might be cheaper to buy a larger tin and divide it into smaller pots and keep in the fridge.
Pots of sliced vegetables can keep in the fridge for a couple of days – sticks of carrot, cauliflower florets, baby sweetcorn, mange tout peas, chopped-up French beans and strips of celery can be dipped in low fat mayonnaise or natural yoghurt flavoured with a little bit of curry powder or Thousand Island dressing.
Fat–Free Popcorn
Popcorn is a favourite snack, but bought popcorn can be high in fat and salt or sugar. Making it at home is healthier, easier and cheaper:
Put a handful of corn kernels into a clear glass bowl. Put a heatproof plate on top and microwave on full power for about four minutes or until most of the corn is popped. Watch out – the bowl may be hot.
Sandwiches and Crackers
Sandwiches make a good snack, and using wholegrain bread adds extra fibre and nutrients into the diet. Try experimenting with different breads, like oat or rye bread, or breads including sun-dried tomatoes, mixed grains sunflower seeds, or using wholegrain crackers rather than bread. Fillings could include:
Peanut butter and raisins or sliced apple.
Soft cheese (full fat for young children and low fat for older children) and sliced banana or strawberries.
Low-sugar, high-fruit jam or sugar-free pure fruit spreads.
Other Ideas for Healthy Snacks
Other snacks could include a bowl of unsweetened breakfast cereal with milk or yogurt or home-made biscuits, cakes and muffins, made with less sugar and wholemeal flour.
You might also like...