Anorexia and Your Teenager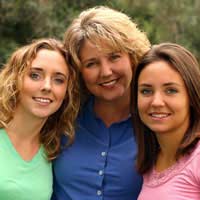 Anorexia is an eating disorder that most commonly affects girls and young women although it's increasingly seen in boys and young men too. It is characterised by drastic dieting, excessive exercising, extreme weight loss and a belief by the sufferer that they are fat – despite obvious evidence to the contrary.
Anorexia is a serious mental illness and needs expert professional help.
Why Does Anorexia Happen?
Most experts agree that there is no single cause of anorexia. Factors might include:
Low self esteem
Poor body image
Outside pressure from the media and/or peers
Feeling overwhelmed and unable to control their lives
Previous trauma or abuse
It's important to realise that children from stable, loving homes can and do develop anorexia – so it's not a question of blame or fault. Typically, sufferers are high achieving perfectionists who feel that eating is the only area of the lives over which they have full control. But that's certainly not the full story and all sorts of people from a wide variety of backgrounds can be affected.
Symptoms of Anorexia
Sufferers may be quite devious and try to hide their anorexia from parents, particularly since they often refuse to believe that they have a problem and see other people's efforts to help as unwelcome interference. However, parents can look out for any of the following:
Rapid weight loss
A change in eating habits, like avoiding meals, pushing food around the plate, or choosing only low calorie foods
Vomiting after meals or taking laxatives
An obsession with calorie counting, frequent weighing, slimming magazines, and slimming websites (watch out for 'pro ana' sites which actually promote anorexia as a lifestyle choice)
Wearing loose clothes to hide the body and woolly clothes to keep warm (because of body fat reduction)
Exercising to the point of exhaustion
A preoccupation with food – particularly cooking for others but not eating themselves
Effects of Anorexia
Weight loss and withdrawal of nutrients on this dramatic scale is very detrimental to a physical health. Skin dries, bruises easily and grows downy hair. Nails and hair become brittle, and girls' periods may stop – with consequences for future childbearing and bone health. In extreme cases, the function of major organs like the kidney and heart is impaired, and sufferers may literally starve. Thankfully, many anorexics recover their health with no such ill-effects and go on to lead healthy, happy adult lives.
Getting Help
Because Anorexia is so serious, it's vital to get help immediately. Handle children very sensitively and give them a lot of encouragement. Try to avoid being confrontational. The GP is the best place to start – ask to be referred to a specialist clinic. There are also support groups and sources of information that can be a great help to everyone in the family.
Treatment for Anorexia
Children can get effective, expert help for anorexia. Depending on the severity of their illness, they may be admitted to hospital or a specialist clinic for a while. Treatment will involve focusing on both mental and physical aspects – addressing health problems, gaining weight, planning healthy eating strategies, coming to terms with a healthier body weight, and looking at the psychological issues underpinning the anorexia. Personal growth and improved self-esteem are central to effective treatment and sometimes the whole family will be involved in therapy.
You might also like...
i have to do an essay of anorexia people and it really opens my eyes to see how this people think they are overweight and they are not, so its a relaly big deal , and maybe some day this girls could reach the point to open their eyes and see what they are really soing
maria
- 9-Apr-11 @ 10:25 PM