Under-Age Drinking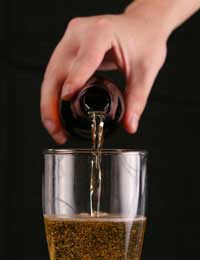 Binge drinking and under-age drinking are increasingly in the news these days. More and more children seem to be drinking too much too often and too soon – certainly long before the age of 18, when they're officially allowed to buy alcohol for themselves.
Parents may feel helpless in the face of their children's growing independence, particularly if they're part of a group of kids who drink together. But parents are still a big influence in their children's lives. Keep the lines of communication open, try to be as supportive as possible and set a good example – and the chances are, they'll get past this stage and grow up with a sensible attitude to alcohol.
Set a Good Example
Adopting sensible drinking habits at home goes a long way to teaching children how to handle alcohol. If they see their parents cracking open the gin as soon as they get in from work or drinking with every single meal, they'll pick up the message that alcoholic drinks are just as everyday as a glass of water or a cup of tea. Make alcohol an occasional treat to have with a couple of meals each week or to celebrate something special with friends. If the family goes into a pub or bar together, make a point of ordering soft drinks for adults as well as for children – there are lots of options out there apart from alcohol.
So What Exactly is the Law?
The law says that children aged 16 and 17 can drink wine, cider or beer (not spirits) with a meal, provided the drinks are purchased by an accompanying adult. If children under 18 drink outdoors – for example, in the street or park – the police can confiscate the alcohol.
When they reach 18, young people are free to drink any type of alcohol and buy it for themselves.
At home, it's pretty much up to the parents – in fact, it's actually legal for adults to buy alcohol for children aged five and over. Obviously, it makes no sense to introduce very young children to drink. But as they get older, they will be curious and parents may want to let teenagers try a little alcohol within the safe confines of the home.
Some parents like to adopt the French way of doing things and offer their children a watered-down glass of wine when they drink it themselves. This is not for everybody – some people think it gives children an unhealthy taste for alcohol. But others believe it teaches children how to drink in moderation and that they're less likely to go mad when they're finally allowed to drink legally in public.
It's usually unwise to impose a total ban on alcohol because it could take on the allure of 'forbidden fruit' and have the opposite effect to that intended.
Talk to Children About Alcohol
Make sure that children understand the dangers of misusing alcohol, but try not to be judgemental as it will turn them off. Chat about the issues rationally and calmly, covering things like:
Alcohol-related health problems, including liver and heart disease and alcohol poisoning
Drunkenness and crime
Drink driving and its devastating consequences
Legal limits for drink driving
Loss of inhibition and its effect on behaviour and personal safety
The cost of alcohol and what else they could do with the money
Alternatives to alcohol, such as soft drinks, hot drinks and non-alcoholic beers or wines
Also talk about why adults do enjoy the occasional drink and what might be appropriate contexts for social drinking, such as parties, meals and celebrations.
Peer Pressure
Parents can also help their children resist peer pressure. It's hard to be different from the rest of the crowd, but with a supportive family to boost their self-esteem, children will be able to make the right choices for them.
If they're Already Drinking too Much
Alcohol – like any drug – is addictive and some people seem more prone to drinking too much than others. Parents who suspect things may have got a bit out of control need to handle their children very sensitively and give them a lot of support. Try to avoid being confrontational, but do try to persuade them to get help before things get worse. The GP is the one place to start – they may know of local sources of help and can be relied upon to keep it confidential. There are also support groups like Alcoholics Anonymous, help lines and websites such as www.talktofrank.com, which covers drugs of all kinds.
You might also like...