Binge Eating and Your Teen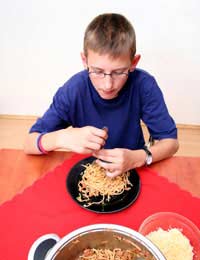 Teens who suffer from a binge eating disorder eat large quantities of food in one sitting, either as a typical meal or when they are feeling upset and turn to food for comfort. Those affected do not then regularly purge this food, such as by vomiting, taking laxatives or exercising excessively. Instead, most binge eaters usually become overweight or clinically obese, though in a teens active lifestyle may actually be enough to keep shocking amounts of weight from building up. Unfortunately, the fact that a massive weight gain may not result combined with the fact that binge eating episodes can easily be put off as a teen simply going through a growth spurt means that binge eating disorders may not be efficiently diagnosed and treated for teens.
Causes of Binge Eating
Though it is characterised as an eating disorder, binge eating is also at its core an outlet for an individual's emotions. There is no single known cause of binge eating disorders, but is known that binge eating is often related to the same negative emotions as other eating disorders: low self-esteem, lack of self-confidence, feelings of helplessness and depression.
Binge eating may also be the product of an individual's environment or personal history as it has been noted that individuals who have suffered various forms of abuse sometimes turn to binge eating as a way to cope. Current research is also investigating a link between binge eating and genetics.
Signs and Symptoms of Binge Eating
Like other eating disorders, binge eating is most often recognised and in fact mainly defined by an individual's eating habits and weight. Often those who engage in binge eating will hide the food on which they binge and lie about what they have eaten.
The food consumed during a binge need not be junk food such as crisps, chips and ice cream, it can also be food that would otherwise be seen as nutritious, such as bread, pasta and leftover meals. Some binge eaters also engage in "grazing" while they are in public, or eating little bits over a long period of time (for example, the duration of a party) and will continue to publicly eat for as long as there is food offered.
This will hold true even when they are no longer hungry or are actually so full that they are in pain. Many binge eaters also voice negative opinions about their appearance, express a desire to lose weight or diet, and avoid exercising in public. Changes in socialising patterns, sleep patterns and energy patterns may also be signs of an eating disorder such as binge eating.
Treatment for Binge Eating
As there is no one cause of binge eating disorders, there is also no one cure for them either. Instead, a variety of treatment options are usually brought together to form an individual's treatment plan. Treatment plans for binge eating tend to include counselling or therapy, family counselling or therapy, cognitive behaviour therapy (to change food and eating behaviours), the use of support groups or group therapy, and nutritional counselling and planning.
Medication is not usually used to treat binge eating unless it is prescribed to treat an associated condition such as depression or if it is an appetite suppressant that has been prescribed under medical supervision. Medical care for binge eaters may also be needed as binge eaters are typically overweight or clinically obese and therefore at risk for high blood pressure, high cholesterol, type 2 diabetes, heart disease, stroke, joint and muscle pain and sleep apnea.
The large amounts of food consumed may also lead to stomach and gastrointestinal pain, gum infections and cavities due to large amounts of sugar and acid consumed, and constipation or diarrhoea. Any medical issues such as these will be dealt with specifically, and plans for healthy eating and exercising will likely also be put into place for binge eaters.
Binge eating is perhaps the least well known of all eating disorders. Further information about binge eating disorder can be obtained from any medical or mental health professional and/or the Eating Disorder Association working within the United Kingdom.
You might also like...