Encouraging a Positive Body Image in Your Child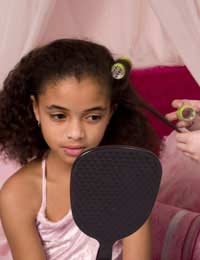 Everywhere we turn we see idealised images of the human body – on TV, in films and adverts, in comics and magazines. Even children's dolls echo the impossibly thin figures of today's size zero supermodels or the muscular athletic frames of bodybuilders.
It's hardly surprising that children may compare themselves with the 'ideal', and find their own bodies don't measure up. Evidence shows that such feelings can start when children are quite young, even before they reach puberty. So how can parents help their children to feel good about themselves in the face of such pressure?
Help Boost Your Child's Self-Confidence
Confident children are more likely to be able to withstand outside pressure to conform:
Let children know that you like the way they look
Praise them when they're kind and thoughtful
Congratulate them when they succeed, but always let them know that they are loved for who they are, whatever their achievements
Listen to what they have to say, respect and show interest in their ideas, spend time with them and have fun together
Do offer constructive criticism and set firm boundaries – they need to know what's acceptable and to feel safe
Give them responsibility as soon as they're ready to take it, whether it's small things like helping around the house, or bigger expressions of trust and respect – like letting them walk to school by themselves and plan their own timetables for revision/practice/homework or giving them a clothing allowance
Encourage an Open Atmosphere at Home
Create a friendly, warm environment at home where children can talk openly about difficult issues and problems they may be experiencing and know that their parents will listen.
Talk About Body Image
As children get older, introduce the subject of body image – perhaps when a supermodel appears on TV or there's a relevant article in the paper. Gently steer the debate so that they understand the pitfalls of trying to live up to an impossible ideal, but don't give them a lecture. It's best if they explore the issues themselves; try asking a few questions to start things off. A good area for discussion might be how body shape affects the way we perceive others.
Be Positive About Yourself
Make sure children are not picking up negative messages at home. If parents are always on a diet or expressing dissatisfaction with their own bodies, children may follow suit.
Teach Children to Look After their Bodies
Show children how to keep themselves healthy through a sensible approach to eating and exercise:
Sit down together to eat as a family
As far as possible, eat balanced, healthy meals – don't rely on processed food or sugary snacks
Get the children involved in menu planning, shopping and cooking
Leave the car behind as much as possible
Take walks together; go cycling, swimming or dancing; play sport or anything else you enjoy as a family
When Problems Happen
Even in the most open, loving families, children can and do develop problems with their self-image. Often it's the high achievers who demand a great deal of themselves. But any child could be affected and it's not just girls. Parents might notice:
Reluctance to take part in certain activities, like swimming or PE
Withdrawing from social events or being afraid to try something new
Children talking themselves down
Offer sympathy and encouragement and avoid making personal observations because children can be very sensitive. Instead, involve the family in a broader campaign to improve things – perhaps by adopting the confidence-boosting and healthy eating strategies above. It's a lot less personal to remove crisps from the family diet because fruit is healthier, than to stop a particular child eating crisps because they're getting fat.
Try taking part in some fun activities together and help children to face particular challenges in a safe environment. For example, a child who dreads school swimming lessons might cope better if parents invite a small party of his or her closest friends to swim together the previous weekend. Make sure the child feels comfortable with these suggestions.
If children are losing or gaining large amounts of weight, eat too much or refuse to eat enough, disappear after meals (perhaps to vomit) or take up excessive exercising, they could be developing an eating disorder. Or if they're particularly quiet or always seem exhausted, they may be getting depressed. It's important to address problems like this as soon as possible so always seek professional help.
You might also like...