Overweight or Obese Teens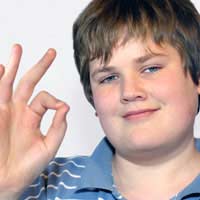 Research shows that an overweight or obese teenager is in danger of becoming seriously overweight as an adult too.
Quite apart from the poor self-esteem that often results from being overweight, teenagers may have to deal with bullying, name-calling and discriminatory attitudes. They can become depressed and use food for comfort; exacerbating the problem. The physical health implications are also very serious, including a greater risk of developing type II diabetes, high blood pressure, liver cirrhosis, heart disease and stroke later in life.
Although some teenagers may have a medical problem that results in obesity, this is very rare. In most cases, it's a result of eating too many foods high in fat and sugar and not getting enough exercise.
So What Can Parents do to Help?
Take it Gently
Most people are sensitive about their weight – and teenagers even more so, as they come to terms with all the emotional and physical changes of adolescence. Be supportive and encouraging, but try not to intrude or get too personal. A 'whole family' approach is more likely to succeed.
Eat Well at Home
In most cases, a weight-loss diet is not the right answer for an overweight teenager, unless they're under medical supervision. It's better if they adopt a healthy, balanced diet and gradually 'grow into' a more appropriate weight. Crash diets or drastic attempts to slim down tend not to work in the long term because they don't address underlying eating habits. They can also trigger eating disorders.
Help teenagers change the way they eat by setting a good example at home:
Make sure family meals include plenty of fruit and vegetables, whole grains, lean proteins and unsaturated fats
Sit down to eat together as much as possible and turn off the TV at mealtimes
Don't ban snacks, but do remove high sugar, high fat choices from the cupboard. This includes sugary drinks.
Provide fresh fruit, whole grain breads and crackers, raw vegetables and whole grain breakfast cereals instead. Low fat milk, pure fruit juice and water are all good drinks.
Encourage children to help with planning, cooking and shopping for healthy meals
Try to get everyone in the family to 'buy in' to the new approach and to understand why it's important. Discussions around the broader health benefits are better than focusing on one person's particular weight problem.
Treats
It probably doesn't pay to ban 'treat' foods altogether, but try to keep them occasional rather than a daily habit. Cut down on visits to fast food outlets and only get takeaways occasionally – if teens are particularly fond of curries or pizzas for example, try making lower fat versions at home.
Get into the habit of offering non-food rewards and treats and make sure teenagers are getting plenty of attention and affection – particularly if they appear to eat for comfort or out of boredom.
Get Out More
Support teenagers to take up some active hobbies as alternatives to the TV or computer. Help with arrangements, show an interest in what they're doing and praise their achievements.
Try to find something that gets the whole family out together – whether it's going for a walk or playing sport, doing some volunteering or going dancing. If teenagers are reluctant to spend time like this, try meeting up with family friends for some active fun in a larger group. Encourage them to walk or cycle to school and show them the way by leaving the car behind as much as possible.
Getting Help
It will take time for things to get better – indeed, slow but steady improvement is most likely to succeed in the long run. But if nothing has changed after a few months or the teenager is having a lot of emotional problems, see a doctor. It may be that some more specialist support is needed.
You might also like...