Methods of Sterilising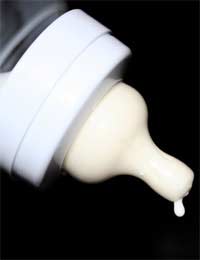 If you have decided to bottle feed your baby you will need to think about the type of sterilising equipment you would like and which methods suits your lifestyle and home the best.
Why do we Need to Sterilise?
Babies are born with very immature immune systems and need protecting from germs and bacteria that could cause them harm. By sterilising their feeding equipment we are giving them the best start in life and preventing them from developing infections and stomach upsets that can be very harmful to new born babies.
It is especially important if the child is being fed with formula milk as this does not contain the same degree of immunity they would receive from breast milk. It is also possible that formula milk deposits can remain in the teat and crevices of the bottle even after cleaning that can cause harm.
Cold Water Sterilising
Cold water sterilisers involve filling a receptacle with cold water and usually adding a tablet sterilising agent. The tablet dissolves in the water and provides a thorough method of sterilisation. This method is usually quite cheap and easy to use, though it can be tricky to make sure that the entire bottle is fully submerged and all air bubbles are out. The disadvantages are that it is not as quick a method as other types of sterilisation and can be quite time consuming.
Always refer to the instructions on the steriliser and the manufacturers instructions regarding time limits and the duration in which the bottles and teats should be kept in the container.
Boiling
This is the old-fashioned way of sterilising equipment, although it is still effective.
A clean saucepan should be filled to a sufficient level to submerge the bottles fully, ensuring all air bubbles are out. The pan should be boiled for at least 10 minutes to ensure the equipment is properly decontaminated.
This method does not require any chemicals and no special equipment but the pan should not be used for general household cooking and should be reserved purely for sterilising the bottles.
The biggest disadvantage is that it is more dangerous than the other forms and you risk scalding or burning yourself. Also to be taken into account is whether you are able to lift a pan full of water onto the oven hob which can be tricky if you gave birth via caesarean section or have any problems with mobility or back pain.
Microwaveable Sterilisers
Microwave sterilisers are very popular nowadays as they are quick, efficient and don't take much energy.
They involve using a microwaveable container that can be filled and placed in the microwave which can then heat them to the required temperature for the desired time.
Please refer to the individual manufacturers instructions for details on the times needed to ensure the items is sterilised as this may vary depending on the equipment you use and the power of your microwave.
Steam Sterilisers
Steam sterilisers are very useful devices as they require minimal effort and do not take very long.
They can be expensive however but can be found in many supermarkets.
Normally the bottles, teats, rings and lids are placed upside down in the steriliser which usually requires the user to fill a small reservoir with water. The device is simply plugged in and left to steam.
Again, each device will have its own instruction as to how long the cycle will take.
Please remember, if you are using steam sterilisers, the boiling technique or a microwaveable steriliser, the bottles and teats will be very hot when they have initially been sterilised and will need time to cool before use.
Sterilisation is very important for newborn babies, but once you have carried out the task a few times, you will find you can complete it very easily and with confidence.
Please remember to read the manufacturers instruction of any device you purchase in order to achieve the best result.
You might also like...