Why Buy Baby Food? Tips to Make Your Own
By: Suzanne Elvidge BSc (hons), MSc - Updated: 9 Dec 2010
|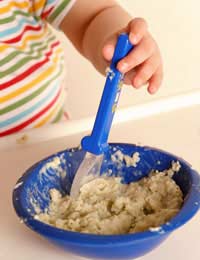 Baby food in tins, jars and packets is convenient, but it can work out rather expensive – making your own baby food is a lot cheaper, and with a little planning, won't take up too much time. Another of the advantages of making your own baby food is knowing exactly what is in it.
According to the World Health Organisation (WHO), breast milk should be the sole food for babies until they are six months old – and it is the cheapest, most convenient and best way to feed a baby. Some women are unable to breast feed – in that case, babies should have the correct formula milk for their age. After six months, babies can start to eat solid foods.
Preparing Food
When preparing baby food, make sure that all utensils (and hands) are as clean as possible, and use really fresh ingredients. Wash fruit and vegetables carefully, trim all of the fat off meat, and check fish carefully for bones. To retain nutrients, cook fruit and vegetables with as little water as possible, or steam them until they are soft, and avoid using too much fat when cooking meat and fish. Food for babies should be cooked until it is piping hot, but should be served just warm.
For young babies, use a food processor or blender to puree food until it is smooth, and add a little milk or water if it is too thick (try a little unsweetened apple juice when blending fruit to add a bit extra flavour and sweetness). For convenience, make up larger amounts and freeze pureed baby food in ice cube trays, then thaw only the amount needed for each meal – this saves time and waste.
Trying New Flavours
It's a good idea to introduce one new flavour at a time. Start off with pureed fruits and vegetables, such as apple, pear, banana, carrot, sweet corn, potato, sweet potato, avocado or parsnip. If the baby spits it out, it might not mean that he or she doesn't like it, it might just be the surprise of a whole new taste!
Growing Up
As babies grow up, they can start to try mixtures of different flavours and textures. Rather than cooking something different, mash or chop up some of what the rest of the family is having, but avoid anything with too much salt or sugar in it – this gives the growing child the chance to try as many different flavours as possible.
What to Avoid
To avoid the development of allergies, babies should not be given certain foods before they are six months old. – this includes gluten, which is found in wheat, oats, barley and rye. Rice is gluten-free and is fine for babies – ground rice is easy to cook and makes a good breakfast. Other foods to avoid before six months are fish and peanuts. In families with a history of peanut allergy, these should be avoided until children are three years old.
Before 12 months, use breast milk or formula milk rather than cow's milk as a drink for babies. After about seven or eight months, whole cow's milk can be used in food such as custards, yogurts and milk puddings.
You might also like...