The Art of Successful Breast Feeding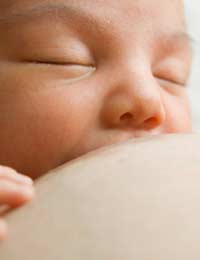 Most pregnant women and new mothers love the idea of breast feeding their newborn, and being the most natural thing in world, it should be encouraged. However, it may not all be as rosy as we are led to believe and learning how to successfully breastfeed can require determination and motivation.
Relax and Enjoy It
The best way to start breast feeding is to make the commitment before the baby is born so that you can look forward to the event and your midwife can ensure the baby is placed directly near your bare chest as soon as it is born. When babies are given skin to skin contact with their mother after the birth they will automatically root for the breast and want to suckle. You can help the baby by gently supporting his or her feet allowing it to push against you and not by lifting the baby up to the breast.
The nipple should be taken totally into the baby's mouth, including as much of the surrounding areola as the baby can cope with. A baby should not suck the tip of the nipple but should pull the breast into the mouth.
Baby should stay at the same breast for as long as possible in order to get the most benefit, as the milk that is taken first during the feed is different to the milk that follows.
Getting the Baby to Latch On
If your baby is having difficulty latching on you may want to gently stroke its cheek as this normally stimulates the baby to open it's mouth. Failing this try squeezing a little milk onto your nipple so that the baby can smell and feel it which may encourage him or her to open their mouth.
Do not let your baby simply suck the tip of your nipple as this will not feed the baby and will only result in you getting really sore nipples.
Managing with Sore Nipples
Sore nipples can be part of breast feeding, although not all women experience this.
Your nipples are likely to become a little dry and maybe even cracked and this can usually be remedied fairly easily.
As you are about to put the baby to the breast, try manually squeezing a little breast milk out of your nipple and massaging it around the areola until it has absorbed. This fluid is perfect for adding moisture to the skin and will not leave any residue or scent that puts your baby off taking the nipple during the feed.
If this isn't sufficient, there are special creams available that can be bought from supermarkets and chemists, but they are best used after a feed so that the baby doesn't get any nasty tastes in his or her mouth that may be unpleasant.
Is Your Baby Getting Enough?
One small problem with breast feeding is that it can be difficult to tell exactly how much fluid your baby is getting. In actual fact, unless you aren't producing any milk, your baby is probably getting everything he or she needs.
Your midwife or health visitor has probably told you that breast fed babies produce fewer soiled nappies than bottle fed ones so unless there is a lack or wet nappies or weight loss, your baby is probably doing just fine.
If your breasts are full and the baby is emptying them there is little need to worry at all, likewise if you are making lots of milk but your baby isn't emptying them, this is a sign that he or she is satisfied and simply doesn't need the amount you are making.
One of the other biggest tips for successful breast feeding is to remember not to let yourself become too tense or stressed by the event as these feelings will be picked up by the baby and discourage feeding.
Breast feeding should be a wonderful bonding experience during which both mother and baby will benefit in the long term and enjoy the experience equally.
Not all women however are able to manage breast feeding so if you do want to change to formula, please speak to your midwife who can advise you on how best to manage the changeover.
You might also like...