Some More Tasty Lunchbox Ideas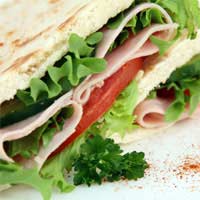 Lunchboxes can easily become boring with sandwiches and fruit and a chocolate biscuit, here then are a few ideas to make lunchboxes a little bit more exciting.
Try Pitta or Wraps
Vary the type of bread you use. Pitta bread is readily available in supermarkets. Pop in the toaster on the lowest setting, then slice carefully through to make a pocket and fill with tuna and mayonnaise, ham and lettuce or cheese and pickle.
Soft flour wraps are great filled with strips of cooked meat and salad, then folded top and bottom, rolled and cut diagonally across the middle.
Cook some pasta, peas, sweetcorn and finely chopped vegetables, drain, mix with a tablespoon of olive oil and a tablespoon of tomato ketchup, cool and out into a small pot. Don't forget to include a spoon.
Mix a large dollop of soft cheese with a tablespoon of tomato ketchup and a good shake of Worcestershire Sauce. Serve with some little cocktail sausages, some strips of pitta bread, breadsticks or strips of raw vegetables.
For Colder Weather
In the colder weather, invest in a wide necked, unbreakable flask and make some soup. Chop up a selection of vegetables and fry off in a pan with a little olive oil for around 5 minutes, add a vegetable stock cube and enough water to cover the vegetables, put a lid on the pan and simmer for around 20 minutes, or until the vegetables are tender. Blend the soup.
This can be frozen in batches, defrosted the night before, heated in the morning and served with a couple of slices of bread or a roll (again, don't forget to include a spoon). If you want to add some extra bulk to the soup, use pulses (like beans or lentils), or add mini pasta shapes.
Any leftover pasta, mince or curry dishes could easily be warmed up and put into a flask.
For Sweet Treats…
Make some rice pudding (or buy some tinned), put a few tablespoons full in a pat with a dollop of jam or some stewed fruit.
Chop up some fruit or take a few handfuls of muesli and mix with a few tablespoons of yoghurt.
Instead of chocolate bars or biscuits, make some little sponge cakes together and wrap one in cling film.
Oat and fruit bars can be expensive to buy, but are simple to make can are a tasty treat in a lunchbox.
Fruit bread or malt loaf, thinly spread with butter is another alternative. Loaves can be bought in supermarkets and frozen – just take out what you want the night before so that it has time to defrost.
Some children might worry that a lunchbox containing anything more exotic than a jam sandwich might be the cause of cries of "er, yuck", from others. Simply explain that its probably just jealousy because the lunch looks so interesting and appetising and the reluctance to take a more adventurous approach to lunch soon transforms into a source of power for the child as they come to realise that they have something others aspire to!
None of this is to say that kids don't enjoy the old faithful jam sandwich every once in a while though!
You might also like...