Fun, Healthy Recipes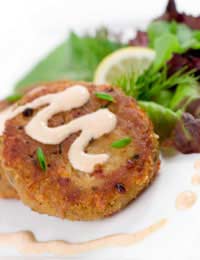 Feeding children can be a bit of a chore, especially if they want the same old favourites time and time again.
So for families getting a bit stuck in a rut with mealtimes, here are some fun healthy recipe ideas to ring the changes and liven up those children's staples.
Jacket Potatoes with a Difference
Jacket potatoes are a great family staple, delicious with cheese, beans, tuna and sweetcorn, sour cream and chives – just about anything in fact. But even with so many possible toppings, jackets can be a bit ordinary. To lift them into another sphere, try scooping out the cooked potato and mashing it with plain yoghurt and cheese until fluffy, then top with grated cheese and herbs and finish under the grill. Or really go to town and mash the cooked potato with cheese, chives and milk, fold in some whisked egg whites, and bake for a further 10 – 15 minutes. The result – a jacket soufflé; deliciously light with a crispy, cheesy top.
Classy Hot Dogs
Kids love hot dogs, but let's face it – hot dog sausages can be watery and full of preservatives and there's not much goodness in the bun either. It's easy to make hot dogs in another class altogether. Get some really good quality butcher's sausages or try the organic ranges from the supermarket – some include tasty and nutritious extras like leeks or cranberries. Grill or oven cook until burnished brown. It's a good idea to prick them first and sit them on a rack, so the excess fat drains away. Buy some wholemeal rolls or better still, make them at home – devotees of the bread machine will know how easy it is to make dough in the machine, shape it by hand and finish off in the oven. Provide a choice of sautéed onions, relishes, pickles, sauces or mustards and serve with a crunchy green salad.
Fish Fingers? No Thanks!
Fish fingers are OK for a quick meal when the family's in a rush, but they don't really get the tastebuds tingling. Home-made fish cakes are another matter. Banish all thoughts of the terrible school version in the dim and distant past – these can be a princely, quick and healthy meal. Use good quality fish, microwaved or poached in milk, stock or water. Salmon or haddock are good choices – be sparing with smoked fish because of the salt content, but a little mixed in is very tasty. Tinned fish is also surprisingly good. Use up yesterday's leftover mash or make some fresh and mix with the cooked or tinned fish, some sautéed onion and/or leeks and herbs such as dill or tarragon. Shape into rounds and coat with seasoned flour. Then shallow fry in a light oil such as groundnut or sunflower. If the kids are feeling adventurous, try adding chopped gherkins or capers to the mix! Serve with tartar or horseradish sauce and broccoli spears.
Meatballs in Tomato Sauce
Home-made meatballs are much healthier than the tinned or shop-bought varieties, which tend to be high in fat, additives and salt. Use lean minced beef, pork or lamb or quorn mince for vegetarians. Mix with chopped onion, parsley, beaten egg, breadcrumbs and seasoning. Shallow fry, then serve on top of spaghetti (there's a song about that somewhere …) covered in tomato sauce. Lots of vegetables can be disguised in homemade sauces – great for children who are a bit militant about them. Try whizzing up tomatoes with carrots, peppers, herbs, onions and garlic.
Small is Beautiful
There's something about miniature food that children really love. Mini vegetables like baby carrots, baby corn and cherry tomatoes are usually much more popular than the bigger varieties and the same goes for other meals too. It's just as easy to cut out a small circle of pastry and pop it on top of an individual ramekin as it is to cover a large pie dish and if the pie topping is mashed potato (for example, in a shepherd's pie or fish pie), it's even easier. In the same way, try making single portions of fruit crumbles or a mini trifle for each person in the family.
Fruit Dipped in Chocolate
Chocolate and fruit are perfect partners – but don't stop at a bag of chocolate raisins from the supermarket. All sorts of fresh and dried fruits are delicious dipped in melted chocolate. Cherries, apricots, strawberries, banana wheels and slices of plum work particularly well. Kids can even have a fondue session – with a bowl of melted chocolate and a box of cocktail sticks provided, they'll be away! If they can bear to wait, the fruits will be even tastier popped in the fridge on a sheet of greaseproof paper for an hour or so.
You might also like...