Quick and Healthy Recipes For Kids to Eat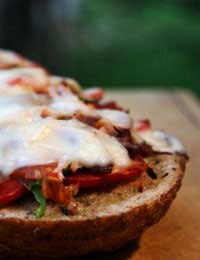 The huge rise in the popularity of junk and convenience food is partly down to our increasingly busy lifestyles – we just don't have time to cook. But the idea that good food takes longer to make is little more than a myth. Of course some gourmet dishes can take many hours, but there are plenty of tasty, nutritious recipes that take just a few minutes to put together. Not only are they much healthier than ready meals – they taste miles better too!
Stock up the Cupboard
The secret to making good food quickly is having all the ingredients to hand. Stock up the cupboard with raw ingredients that keep for ages like pasta, noodles, rice and cous cous; cans of tomatoes, butter and kidney beans; tinned sardine, anchovy and mackerel fillets; nuts of various kinds; sauces, pickles and curry pastes.
Use the Freezer
Make full use of the freezer, but not to pack it with ready meals. Bread, rolls, naan, crumpets and pitta keep for weeks in the freezer; some need to be taken out the night before, while others can just be popped in the toaster when required. Fish fillets can often be cooked from frozen in the microwave in just a couple of minutes – coupled with a freshly cooked ratatouille-style sauce, some new potatoes and French beans, they make a delicious easy meal in less than half an hour. Meat keeps well in the freezer too and some (such as mince) may cook from frozen. Larger pieces of meat and oilier fish like salmon fillets will need defrosting overnight in the fridge. Peas, spinach and green beans all freeze excellently. Other veg like carrots, parsnips, potatoes and cabbage are better kept fresh in the fridge.
Fresh Ingredients
Of course, fresh foods lie at the heart of healthy eating, as they're packed with vitamins and nutrients. If the fridge is stocked with fresh vegetables, milk, eggs and cheese and the cupboard and freezer are used for staples, there will always be the wherewithal to cook up something delicious in no time. Grow herbs like mint, basil and coriander on the windowsill from spring onwards or use freeze-dried during the winter.
Ideas for Quick Light Lunches
Cheese on toast with a little mustard, garnished with sliced tomato and basil
Crumpets (take out of the freezer and pop in the toaster) topped with haddock (microwave or poach in milk) and poached eggs, garnished with basil
Mini-pizzas made from toasted French bread or ciabatta, with sautéed tomatoes, onions, mushrooms, courgettes and peppers piled high, topped with grated cheese and flashed under the grill
Bagels with smoked salmon and low-fat cream cheese, served with a cucumber and tomato salad
Pancakes filled with a Mexican style bean chilli (sautéed onions, garlic and green pepper, fresh or dried chilli, a tin of kidney beans, tomato puree) and grated cheese
Boiled eggs with buttered soldiers and a glass of orange juice
Something More Substantial
Grilled or lamb cutlets with cous-cous (soak for ten minutes in boiling hot stock, then add to some sautéed onions, season and squeeze in a drop of lemon) and broccoli spears
Fifteen-minute chicken casserole (pan fry chicken pieces with onions, garlic, mushrooms and peppers, add some chopped tomatoes, stir in some natural yoghurt or fromage frais to finish, and garnish with a handful of fresh herbs). Serve with baby vegetables and new potatoes.
Fish fillets with parsley or cheese sauce (if the fish was poached in milk, use the cooking liquid to make the sauce), served with buttered wholemeal bread and peas
Pasta with pesto sauce, chopped walnuts and fresh basil, served with a crunchy green salad
Vegetable curry (sauté some onions, add cooked vegetables – cauliflower, broccoli, potato, mushrooms, okra, parsnips and carrots are all good – and continue to fry for a few more minutes. Stir in ready-made curry paste) served with pilau rice (10 minutes) or naan bread and raita (natural yoghurt with grated cucumber and mint). Add cooked meat or prawns for a change.
Desserts
It's tempting to buy commercially-made desserts or eat a chocolate bar after a meal. But they're packed with sugar and fat, so try some quick alternatives made at home instead. They don't completely cut out sugar and fat of course, but at least the amount can be controlled and there are no artificial ingredients:
Bananas with chopped dates, raisins or crystallised ginger, a blob of natural yoghurt and a little grated chocolate or sieved cocoa powder
Strawberries, cherries or plums with a square of shortbread
Crackers, cheese and grapes
Raspberries with fromage frais, drizzled with honey and chopped walnuts
Apple puree with cinnamon and vanilla ice cream
You might also like...