Get Your Kids Cooking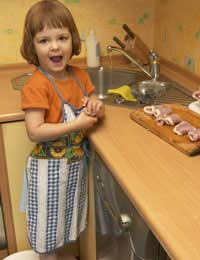 It's never too early to start teaching kids about cooking. Children love to help especially when they're young and catching hold of their enthusiasm will pay dividends later. Families who create delicious meals together are:
encouraging healthy eating habits and fostering a love of good eating
helping to set their children up for the future – they won't be leaving home without being able to boil an egg
teaching responsibility and sharing domestic tasks
Cooking is also a good way to encourage fussy eaters. They'll often try something they've made themselves, if only out of curiosity and who knows – they might add it to their menu for good.
Start Early
There's a limit to what children can do safely in the kitchen, depending on their age. But with help, even quite young ones could:
wash vegetables
set the table
stir the pot
mix the dough
decorate the cake
put the toppings on the pizza
spread fillings in the sandwiches …
… and so on.
It's also a great opportunity to chat together about where the food comes from, how it helps us to grow and stay healthy, how it changes when it's cooked, which ingredients taste delicious together and how to stay safe while using hot stoves and sharp knives.
Make it Fun
Children may need to be enticed at first, so do emphasise the fun side of cooking. Get creative by inventing crazy names for the dishes you produce and focus on making food visually appealing. Young children love making pictures out of food – for example:
They could make a sea of salad leaves, with tomato boats sailing along (slices of ham on cocktail sticks make great sails). Hardboiled eggs could be whales, raw carrots can become fish ... once their imagination gets going; there'll be no stopping them.
A plate of mashed banana with a dish of fresh and dried fruit could be made into any number of pictures – animal faces and family portraits work particularly well
Let them decorate biscuits with icing and sweets for a treat
Let them Take Responsibility As children get older, get them involved in more complex tasks like making sauces and show them how to peel, cut and slice safely. When they're ready, let them take on a whole course – and then an entire meal – by themselves. At first it can be something really simple like hot dogs (grill the sausages, cut the buns, provide the ketchup and Bob's your uncle) or beans on toast (heat the beans, make some toast, pour on the beans and grate some cheese on top).
Children might enjoy having their own cookery book – there are some specially designed for young people – or compiling a scrapbook of their favourite dishes. Or they might prefer to experiment a bit – if it's not too much of a strain on the rest of the family's palates. Some children are very independent and might like to try out their own ideas rather than use a recipe – it's a good way to learn and they might discover something really sensational! But at the same time, it's good for them to learn about fitting in with everyone else too and providing balanced meals that the whole family will enjoy.
Do the Shopping and Planning Together
Children are more likely to want to help with the cooking if they've also helped to decide about the menu. Take them shopping and let them choose some interesting ingredients and talk about dishes they might be able to make with them.
Share the Clearing up Too!
Most kids will love cooking but they'll probably be shy of clearing up and washing up afterwards. Make this part of the routine from the start or they'll only want to help with the exciting bits.
You might also like...