Healthy Packed Lunches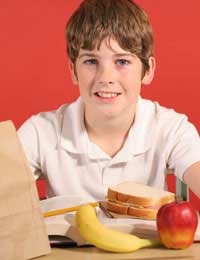 Making a packed lunch for children every day can be quite a test of parents' ingenuity. It's all too easy to fall into a boring routine of sandwich, crisps, chocolate bar and a drink. While that's not an appalling daily diet, it could be better. For example, crisps are too salty to eat every day and there's very little nutritional value in a chocolate bar.
Ringing the changes doesn't have to be as difficult or time-consuming as it sounds. Most parents are doing a hundred and one things in the morning, so they're obviously not going to whip up a gourmet three course meal. But there are some excellent quick and easy ways to make a child's lunchbox a bit more interesting - and healthier!
As they get older, get the children involved with choosing and making their lunch. They'll probably be keener to eat it, it will take the burden off their parents and they'll be learning great skills for the future.
Sandwich Alternatives
There's nothing wrong with a traditional sandwich - but if a child is eating the same old marmite on white or cheese on brown every day, it's a bit dull and it may mean they're not getting sufficient variety in their diet. Try using different breads, pittas and rolls - whole wheat varieties are best and if they include interesting ingredients like nuts and seeds, so much the better.
Fillings like cold meat from yesterday's roast, tinned fish, humous, guacamole, prawn or egg mayo and speciality cheeses are all delicious and pretty instant - but do make sure the food is kept cool until it's time for lunch (see below). Some sandwich fillings can be made in advance and frozen or refrigerated. Then add a few sliced tomatoes and a handful of salad at the last minute to turn them into a feast, while contributing to a child's 5-a-day.
Pasties, pies, slices of pizza or samosas are all great alternatives to sandwiches, although watch out for salt and fat-laden types in the supermarket.
Fruit
Apples are wonderful standbys - they keep for ages and most children love them. But there are plenty of other fruits too, so do go for something else occasionally.
Try satsumas (children tend to prefer the seedless type that are easy to peel), grapes, bananas, kiwis (cut them in half and provide a spoon), strawberries, blackberries and blueberries. Put softer fruits in their own little pots to avoid them getting squashed. Paper towel might come in handy if children get put off by the prospect of sticky hands.
Dried fruit is handy for lunchboxes and deliciously sweet. Apricots and raisins are the most obvious, but lots of supermarkets sell different kinds, from figs and dates to dried apple rings.
Salad and Vegetables
Children who like pasta and rice might enjoy a salad made from either. Tuna and sweetcorn is a popular combination. Other ideas are red pepper, mushroom and sugar snap peas; cherry tomatoes, feta and green beans; ham, courgette and basil – the possibilities are endless.
Less adventurous children will probably still enjoy sticks of raw carrot, celery and courgette, and some cherry tomatoes.
Other Ideas
Try soup in a vacuum flask; yoghurt; oatcakes, breadsticks or crackers; seeds and nuts (if they're allowed at school), scones and fruit breads. Don't leave out sugary foods altogether. Unless banned at school, a piece of cake or some biscuits every now and then will make a nice treat and will avoid them taking on the allure of something forbidden. Likewise, the occasional bag of crisps is fine.
Keeping Food Cool
Few schools provide fridges for children to store their lunches in. But it's not hard to keep food fresh, even on a hot summer's day. Freeze a bottle of water or fruit juice and keep it in the lunchbox – when it's time to eat, the drink will be defrosting and the food will be beautifully cool. Or freeze a tube of yoghurt for the same effect. Special freezer blocks will also do the trick.
You might also like...