Vegetarianism and Growing Kids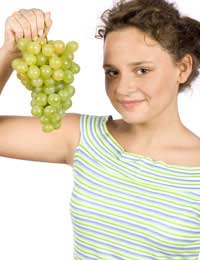 Vegetarianism has become a popular lifestyle in modern society, and many parents want to raise their children as vegetarians but still ensure that they receive all of the proper dietary requirements for growing children. Many children also turn to vegetarianism and non-vegetarian parents are left wondering what this means for their, and the family's, eating, health and well being. Below are some answers to frequently asked questions about vegetarianism and children.
What is Vegetarianism?
Very simply, vegetarianism is the practice of not eating animal meat. A more extreme form of vegetarianism, veganism, is the practice of not eating animal meat nor animal by-products such as dairy or eggs. Those who practice vegetarianism are called vegetarians, and those who practice veganism are called vegans. Many vegetarians and vegans also make the conscious choice not to use animal skins or by-products, such as by rejecting leather goods and clothing.
Is it Healthy for Children to be Vegetarians?
If they follow a proper diet, vegetarian children should be as healthy if not even healthier than children who eat animal meat. Not only is their an abundance of fruit, vegetables, grains and other non-meat items that can combine to provide proper nutrition, but children who don't eat meat will also not run the risk of ingesting hormones and chemicals that may have been given to animals. Vegetarian children also tend to eat more fibre than non-vegetarian children, meaning that they often feel full faster and therefore won't be as likely to overeat, eat empty calories or put on excessive weight. However, this intake of fibre may mean that children do not actually consume enough calories to meet their energy demands, so parents must ensure that vegetarian children eat frequently and maintain a healthy weight.
What is a Healthy Diet for Vegetarian Children?
A healthy diet will depend upon the age of the child. Children who have yet to reach school age should be encouraged to explore all varieties of tastes and textures in their food and whole milk or soya milk should still be a major feature of their diet. For children of school age or older, consulting with a medical professional about their individual needs is a good idea. In general, a diet rich in iron, fibre, calcium and protein is optimal for active children and teens.
What if a Vegetarian Child Wants to Eat Meat?
Children who have been brought up vegetarian may desire to eat meat simply for investigative purposes. Parents should remain flexible about this desire and take into account the child's age. Children who have reached secondary school could generally be considered old enough to think for themselves, so it might be in everyone's best interest to allow this exploration. However, it is up to every family to decide for themselves what they will eat and how they will handle lifestyle changes.
Vegetarianism is a major lifestyle choice, particularly when growing children are involved. Many parents have an idea of proper nutrition for vegetarians, but attempting to feed constantly hungry children a rich vegetarian diet may seem tricky. For more information about vegetarianism and proper nutrition, consult with a medical professional or nutritionist to make sure that everyone stays in the best of health.
You might also like...