Expressing Breast Milk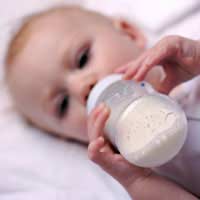 We are probably now all aware that the use of breast milk should almost always be advocated and that new mothers should be educated in this very natural occurrence, but it does not always mean that the baby has to always suckle at the breast to gain the nutritional benefit of the milk.
Breast milk can either be expressed by manually milking the breast to extract the milk, or this action can be mimicked by a machine that encases the breast and collects the milk in a bottle ready to feed your baby.The breast milk can be expressed into more than one bottle and stored in the refrigerator or in the freezer if required.
Reasons for Expressing Breast Milk
There are many reasons why women either switch to expressing their breast milk or combine breast feeding with bottle feeding.Those who have their baby earlier than expected may find their baby needs looking after in special care for a few days or weeks. During this time your baby will benefit hugely from taking breast milk instead of formula. In this case the need for expressing is very strong and mothers can be safe in the knowledge that their baby is getting all they need from the milk even though they are not actually at the breast.
Perhaps you are going to be away from your baby for a few hours such as when you return to work following your maternity leave, but you want to continue feeding your baby yourself. Expressing the milk can allow for the baby to enjoy the benefits of the milk and you can relieve your breasts of the milk without having to keep leaving work or taking shorter shifts.
It may be that your baby is very demanding and you are struggling to keep up with your baby's demands. If you express your milk, someone else can take turns and feed the baby while you rest or get on with other things.
Many women, find that they are producing large amounts of milk and that their baby is not draining the breasts of their full content at each feed. Engorged or half-emptied breasts can be relieved of discomfort by expressing the milk which can be saved or discarded depending on how much you are making and how much your baby is taking.
How to Express Breast Milk
As there are different ways of expressing breast milk and a few different devices available to aid the action, it is probably best you speak to your midwife or health visitor about how to express.
The frequency of expressing milk and the availability of loan machines in your area will also determine how you carry out the action.
If You are Still Having Problems
Whatever your reason for wanting to express your breast milk, it is not always guaranteed that this method will work. Whilst it is quite rare to not be able to express at all, it does happen. It may be that you are not producing enough breast milk (or any) to sustain your baby's needs no matter how hard you try.
If you have been trying to express and are not making enough milk or are having problems with your nipples, even after trying all of the approved methods, please speak to your midwife or health visitor who can guide you through the change-over to formula milk if this is the path you take.
Try not to get too disappointed by not breast-feeding, you did try and not all of us may be able to do it. Although breast milk is advocated, there are benefits to choosing formula milk as the alternative.
Expressing breast milk is very popular for a variety of reasons. The biggest benefits are that it allows your baby and yourself to enjoy the long term benefits from using breast milk, as well as providing an excellent way of helping the father of the baby bond as he can take turns at feeding.
If you wish to try and express your milk, please speak to your midwife or health visitor before so you are armed with all the facts and understand exactly what it involves.
You might also like...