Breast Feeding Your Baby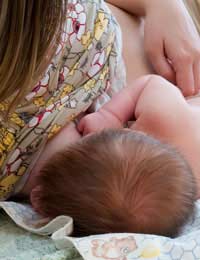 For the first six months of life, milk is the only food a baby needs. Breast milk offers the perfect balance of calcium, fats, vitamins and minerals.
The Early Days
For the first few days after a baby's birth, breast milk is highly concentrated and full of antibodies and nutrients. Called 'colostrum', it helps set up the baby's immune system and establish beneficial bacteria in the gut. Even mothers not intending to breastfeed should consider giving their babies colostrum, because it provides such a good start.
The Benefits of Breastfeeding
Breast milk contains all the nutrients a growing baby needs and protects against infections
It's safe, convenient and free
Breastfeeding is emotionally satisfying for mother and baby and helps them bond after the birth
It can help mothers regain their pre-pregnancy shape. As the baby suckles, hormones are released that cause the uterus to contract. It also delays the return of fertility.
Establishing Feeding
Although babies are born with a sucking reflex, it can take a bit of practice to establish breastfeeding, especially if labour has been long or difficult.
'Latching on' correctly is the key. The main message is 'bring the baby to the breast, not the breast to the baby' and to make sure the baby takes the whole nipple in their mouth, not just the tip. Some mothers prefer to feed sitting up, supporting the baby on a pillow. Others find it more comfortable to lie on their side (particularly after a caesarean). The so-called 'football' position, sitting up with the baby supported under one arm at the side, is useful for feeding twins.
After a feed, gently rub or pat the baby's back to help bring up any trapped wind.
When to Feed
For the first few weeks, it's probably easiest to let the baby dictate when it needs to be fed. Many mothers choose to feed on demand at first and then to follow more of a routine (for example, every three or four hours) as the baby grows and a pattern starts to emerge.
Every baby is different, so what works for one may not be right for another. For example, some babies may feed more frequently in the evening, but go longer between feeds earlier in the day. Some babies may start to 'go through the night' after only a couple of months; others may take much longer. There are no hard and fast rules.
Having Enough Milk
Mothers often worry that they won't have enough milk or that their breasts are too small. These fears are unfounded – women of all shapes and sizes can and do breastfeed successfully. However, if a mother is unwell or very overtired, it can affect milk production.
Steady weight gain, regular bowel movements and plenty of wet nappies are all signs that a baby is getting enough milk
If a baby seems hungry, it may be going through a growth spurt. Feeding more often for a day or two will stimulate milk production. As the mother adjusts to increased demand, feeding will settle down to a regular pattern again.
Regular, well-balanced meals, lots of fluids and plenty of rest will all help maintain good milk production. No special diet is necessary, although it's best to avoid too much alcohol and caffeine.
Setbacks and Getting Help
Some mothers may encounter difficulties like:
sore nipples – check that the baby is latched on properly. Special creams can also help.
mastitis – this flu-like condition caused by inflamed breast tissue needs prompt GP treatment
flat or inverted nipples – this makes it difficult for the baby to latch on. Plastic shields can help.
Midwives and health visitors are ideally placed to provide support in the early days. Friends and family members who have breastfed their own children are also a great source of advice. And there are specialist organisations like the National Childbirth Trust or La Leche League, with excellent resources and experienced counsellors.
Stopping Breastfeeding
There is no right or wrong time to stop breastfeeding. Many mothers stop when they wean their babies or return to work. Or they may continue for a couple of years or more. Some mothers like to express milk for their baby to have while she is away. Breast milk can be frozen and defrosted later.
The gentlest way to stop breastfeeding is to replace one feed a day (then two and so on) with a bottle or a cup, depending on the baby's age. Or a mother can simply stop – but this may be bewildering for the baby and lead to engorged breasts.
Breastfeeding doesn't have to be all or nothing. It's perfectly possible to continue with just one or two feeds a day, or to combine breast and bottle. The mother's milk supply will adjust according to changing demand.
You might also like...