Why is Breakfast Important?
By: Suzanne Elvidge BSc (hons), MSc - Updated: 17 Nov 2012
|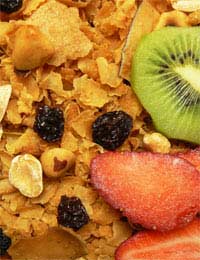 Breakfast is important, but it seems to be the meal that is most often overlooked. In a survey published in 2000, 5% of children aged 10-11 years (year 6) had no breakfast that day, 3% only had a drink, and 9-13% had crisps or chocolate. In the same survey, 21% of 15-16 year old girls (year 10) had no breakfast that day and 19% had only a drink.
So… Why Eat Breakfast?
Why is breakfast the most important meal of the day? Because it helps with children's behaviour, health, schoolwork and weight control.
Breakfast and Behaviour
Children who don't have breakfast tend to get tired and irritable by mid to late morning, and more likely to get bad-tempered and behave badly.
Breakfast and Health
Children who eat breakfast are more likely to have a balanced diet, getting all the vitamins and minerals they need.
Breakfast and School
In a number of studies of breakfast and schoolchildren, children who have breakfast tend to have better scores on tests and their attendance at school is better as well. Their hand-eye co-ordination, alertness and creativity can also be better, too.
Breakfast and Weight Gain
Many young people skip breakfast thinking that it will help them lose weight – in fact, eating a healthy breakfast is actually more helpful in losing or maintaining weight. Children who have a good breakfast are less likely to snack during the morning. Studies link skipping breakfast with obesity, and overweight or obese children are more likely to become overweight or obese adults.
Getting Children to Eat Breakfast
Some children just don't want to eat breakfast. Getting them to plan breakfast menus, choose breakfast foods and prepare their own breakfast gets them more involved. Setting a good example also helps – if parents or carers eat breakfast, children are more likely to as well, and breakfast is important for adults for all the same reasons that it's important for children.
If it's difficult to get children to eat breakfast, or it's just not possible to fit breakfast into the morning schedule, some schools have breakfast clubs, where children can eat a healthy breakfast with their friends, and play games or get some exercise too.
What Makes A Healthy Breakfast?
Wholegrain bread, rolls or crispbreads topped with cheese, cottage cheese, peanut butter, baked beans or poached or scrambled eggs provide both slow release energy and protein.
Cereals, especially those containing whole grains and extra vitamins, but that are low in salt and sugar, are a good start to the day, providing a slow release of energy that should last all morning, and are quick and easy to prepare. Children under two should only have full-fat milk, when they can switch to semi-skimmed. Children should not have skimmed milk until they are five years old. Adding in fresh, frozen (lovely in summer) tinned or cooked fruit helps with 'five a day'.
Fruit juices and fruit smoothies are good too, but drinking too much with or before a meal can fill children up too quickly, and too much fruit juice can damage growing teeth.
Breakfasts on the go include cereal bars but watch out for sugar, salt and fat levels, fruit juices, milkshakes and smoothies in cartons, bananas, and packs of seeds, unsalted nuts and dried fruit.
You might also like...