Why It's Good to Eat as a Family
By: Suzanne Elvidge BSc (hons), MSc - Updated: 15 Sep 2012
|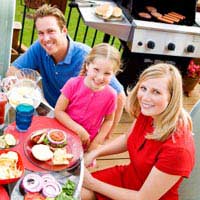 Eating at different times and in different rooms is becoming more common, as families' lives get busier. Supper is more likely to be in front of the television or the computer, rather than round the table. However, does it matter, as long as everybody eats?
Why is it Important to Eat as a Family?
According to a study in the USA, children who grew up eating with their family eat more fruit and vegetables as adults, eat less fried foods, drink fewer fizzy drinks and are less likely to skip meals. They also have better nutrition overall. Girls who ate with their families were more likely to eat breakfast
Other studies have shown that teenagers who eat with their families have better school results, are less likely to suffer from depression, and are less likely to use smoke, drink or take drugs.
Eating Together and Healthy Eating
Children learn by copying what adults do, and if families eat healthy and balanced meals together, and the parents don't overeat, this will teach the children healthy eating habits. Allowing children to serve themselves as soon as they are old enough, and not forcing them to finish what's on their plates, will help them to learn about stopping eating when they feel full – this could help with preventing future obesity.
Eating Together and Table Manners
Eating together can be a good way to teach table manners, but it's important to remember to set a good example. It's no good saying one thing and doing another.
Eating Together and Communication
Eating together is a good way to catch up with each other, and to have discussions and debates. Avoid distractions by turning off the television and the radio, and perhaps put some quiet music on.
Eating and talking together teaches communication skills, and can be a safe environment to bring up difficult subjects and give children support and comfort at difficult times. Encourage the children to talk about what has happened at school, and talk about what happens at work too.
Mealtimes can be a good time to talk through what is happening over the week, and to plan holidays and weekend activities.
Keep mealtimes fun though – don't use it as an opportunity to set rules, give lectures or start arguments, and don't make the discussion topics too heavy or contentious – you don't want everyone to get indigestion!
How to Start Eating As a Family
For families that don't eat together at all, it may be too difficult to change all at once. It might be easier to start by just picking one day a week, when everyone is likely to be free – perhaps a Sunday brunch, or a mid-week evening meal – and then build up to make it more frequent.
Make the food simple, tasty, healthy and nutritious, and begin with food that everyone likes. Once this becomes a routine, it could be a chance to introduce the family to new foods. It could also be an opportunity to get the children and teenagers involved in cooking.
It's harder to eat as a family as children become teenagers and are more independent, but it can help to allow them to invite friends around and allow them to plan the menu.
You might also like...