Ensure Your Child is Getting "Five-a-Day"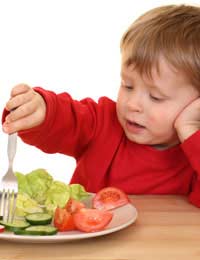 Getting 'five-a-day' into children – as recommended by health experts – may seem like a tall order. And if they're fussy eaters it's even trickier. Thankfully, there are also sorts of creative ways to pack fruit and vegetables into the daily diet and to get round children's reluctance.
Remember that children will eat smaller portions than adults – for example, an adult may eat a whole banana or apple as one of their five; or three tablespoons of vegetables. A child may only eat a third or half this amount, depending on their age. Dried/tinned fruits and tinned/frozen vegetables count too, but note that potatoes and other starchy vegetables don't – so they can't chalk up that bag of chips!
Healthy Fruit and Veg Snacks
A child may not be very impressed with a plain banana or an apple at snack time and hanker after biscuits or a bag of crisps instead. Try offering snacks like these instead – they look lovely and there's a variety of tastes to tempt:
a few dried apricots in the middle of the plate; walnuts in a ring around them; satsuma segments in a ring around the walnuts
mashed banana decorated to look like a face, with apple slices for the hair and raisins for the eyes, nose and mouth
sticks of cheese, raw carrot and cucumber served with cherry tomatoes and radishes and some crackers or bread sticks
nests of grated carrot and celeriac with raisins, grapes or cherry tomatoes as 'eggs', sliced hard-boiled eggs, and a few fingers of buttered toast
Raw Vegetables
If children don't like cooked vegetables, serve them raw instead or cook them only very lightly. Quite a few – not just tomatoes and carrots – work very well raw and retain more of their vitamins into the bargain. Try cauliflower florets, peppers, courgettes cut into sticks and shredded cabbage (delicious in coleslaw). Serve with interesting salad leaves like lamb's lettuce, rocket, watercress and basil and a pot of dip such as hummus or guacamole.
Soups and Sauces
Soups and sauces are great opportunities to pack in a few more vegetables and if the kids are very picky, a blender will make them impossible to spot. Try this simple idea for tomato soup or pasta sauce: whiz up a tin of tomatoes with some garlic, onions, mushrooms, carrots, peppers, squashes, courgettes – whatever vegetables you've got in the cupboard (cook them first if necessary). Add some milk or stock for a soup or some stewed red lentils to thicken. Add cooked minced beef mince for a Bolognaise.
Other Great Soups Include:
onion, mushroom, sweetcorn, chicken stock and rice
onion, broccoli, potato, vegetable stock, nutmeg and cheese
onion, garlic, beetroot, cabbage, potato, carrot, stock, lemon and dill. This is a classic Borscht recipe and is a wonderful colour. Let the kids stir in a swirl of cream and see what patterns they can produce.
Smoothies and Ice Lollies
Most children love fruit juice and a glass each day is a good way to contribute one of the five. But if they're getting tempted by sugary fruit drinks and fizzy pop, try ringing the changes with smoothies and home-made ice lollies instead. A set of plastic ice lolly containers is a great investment – just fill each one with a mixture of fruit juice and water, freeze and enjoy. Smoothies are even better, as they really pack in the juice and the whole fruit pulp. Take a look at the article
Real Fruit Shakes and Smoothies
for some great recipe ideas.
Cakes and Puddings
Cakes are wonderfully moist with some grated carrot or courgette added to the mix. Banana bread is a great favourite too and there's nothing like a bowl of fresh strawberries with a blob of cream and some shortbread. Kids love fruit pies and crumbles and fruit purees can be drizzled on ice cream or mixed with plain yoghurt. Melon with ginger, baked bananas with grated chocolate, sliced oranges with caramel sauce, baked apples with dates and raisins … the range of fruity puddings is never-ending and beats a commercial chocolate bar any day!
You might also like...